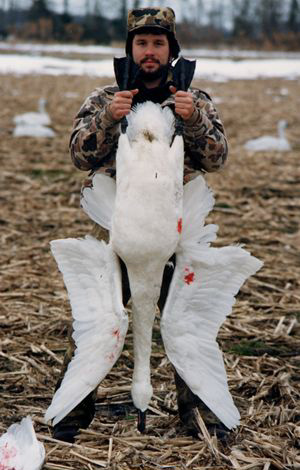 "Waterfowl Hunting at its Finest"
Come and hunt North/Central Louisiana, plus Texas and Arkansas for over 13 species of ducks with Kevin Brocato and Masters Of The Sky. Kevin is an avid hunter and collector and he can help you obtain the type of species you want for a trophy. If Kevin cannot obtain the species you want locally, he will send you with some of the finest outfitters in the world who can. Kevin has been all over North America, Mexico, Central and South America in search of specimens and he will place you with people he has hunted with personally to guarantee you a successful hunt. Below are some of the species and services that Kevin and his outfitters offer. Also be sure and view the rest of the site for pictures and information. Masters Of The Sky is an official USDA quarantine establishment to receive trophy birds from foreign countries. Please inquire about any of these services and prices if interested by calling or e-mailing Kevin. This service is geared toward the serious waterfowl collector.
Masters Of The Sky provides: Boats/Blinds, Decoys and Equipment, and obtaining if necessary Non-Resident Licenses, Stamps and Permits at client's request.
You provide your Shotgun/Ammo, Chest Waders/Boots, Rain Gear, Beverages/Breakfast, and necessary Licenses, Permits, and Federal and State Duck Stamps.
Kevin and his crew have over 19 years of experience hunting lakes/reservoirs and leases around Louisiana, Texas, and Arkansas. We use modern, well maintenanced USCG approved equipment. We obey Federal and State game laws to insure a fair, quality hunt.
Think Gun Safety: No alcoholic beverages please, while hunting.
Season usually runs from November through January 15th. Book your hunt early so you can get the dates you prefer. Booking should be by phone so Kevin can specify the dates that are open and species availability.
Shreveport is served by 6 major airlines. Lodging, fine restaurants, airport shuttle service, and rental vehicles are available.
Please be aware of Hunter Education requirements. All hunts must be booked in advance. Party sizes of 1-4 are welcome. A fifty percent (50%) deposit is required within 7 days to confirm dates. Balance is due on day of hunt. Deposit is fully refundable until October 1st only. If a hunt is cancelled after October 1st the deposit is non-refundable but can be applied to a later hunting date if available or a hunt for the following year.